ZZ6 EFI Turn-Key Connect & Cruise Crate Powertrain System W/ 4L65-E
CPSZZ6EFITK4L65E
Suggested Retail:
$24482.29
Product Details
---
CHEVROLET PERFORMANCE'S FIRST FUEL-INJECTED ZZ SMALL BLOCK !

The ZZ6 EFI Turn-Key crate engine offers modern performance balanced with traditional style that looks period perfect in your vintage Chevy!
Chevrolet Performance engineers adapted a unique, electronically controlled port fuel injection system to the ZZ6 350, using an aluminum intake manifold that has the appearance of a carbureted intake. A fuel injection throttle
body mounted in place of the carburetor allows a traditional air cleaner to be installed on the engine.
The ZZ6 also features cylinder heads based on the proven Fast Burn design, with large intake runners and 2.00/1.55-inch valves, along with beehive-style valve springs enable greater high-rpm performance and durability. It also uses an aggressive hydraulic roller camshaft that supports the engine's high-rpm airflow capability while maintaining excellent low-speed drivability.
A simple plug-and-play control system rounds out the package to get the engine running in your project without the need for third-party tuning.
Our Turn-Key crate engine kit includes the distributor and damper installed, with the throttle body, starter, air conditioning pump, alternator, single-belt Front-End Accessory Drive Kit and more also included.
Connect & Cruise System Components:
Part Number: Connect & Cruise CPSZZ6EFITK4L65E
Engine: 19433044 + 19419371
Transmission: 19368611
Torque Converter: 19299801
Transmission Control System: 19332775
Transmission Installation Kit: 19420473
Engine Specifications
Small Block 350
420HP @ 5,800 RPM
408 lb-ft @ 4,500 RPM
9.72:1 compression Ratio
Transmission Specifications
4L65-E four-speed automatic
Four-pinion gearsets
3.06 first gear ratio, 0.70 overdrive ratio
30-3/4 inches long (approx.)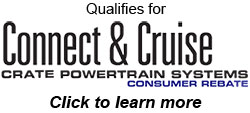 This is a Chevrolet Performance product.
This is a Chevrolet Performance product.
California Proposition 65 Warning