SuperMatic 4L65-E Four-Speed Automatic Transmission - REMAN
19368611
Suggested Retail:
$4502.04
Product Details
---
Hydra-Matic 4L65-E Four-Speed Automatic Transmission – LS-Series V-8
• Similar in design to the 4L60-E
• Electronically controlled four-speed overdrive transmission
• Features four-pinion gearsets, heat-treated stator shaft splines, induction-hardened turbine shaft, seven-plate 3.4 clutch
• Gear ratios: 1st: 3.06, 2nd: 1.62, 3rd: 1.00, 4th: 0.70
• Use SuperMatic™ converter for direct bolt up to Gen I and Gen II engines
• Add up to 430 lb.-ft. torque
• Does not include torque converter
NOTE: Use with electronic controller P/N 19332775 for carbureted and Ram Jet applications. Use with electronic controller P/N 19302405 with Chevrolet Performance LS fuel injected applications.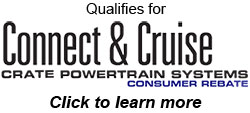 This is a Chevrolet Performance product.
California Proposition 65 Warning