ZZ6 Turn-Key Connect & Cruise Crate Powertrain System W/ 4L65-E
CPSZZ6T4L65E
Suggested Retail:
$21732.30
Product Details
---
THE ULTIMATE 'ZZ' 350-BASED CRATE ENGINE FROM CHEVROLET PERFORMANCE!
Chevrolet Performance's all-new ZZ6 is one of the most powerful 350-based crate engines in the more than 25-year history of the 'ZZ' crate engine lineup. It uses aluminum Fast Burn cylinder heads equipped with LS-style beehive valve springs for greater high-rpm performance. It's rated at 405 horsepower and 406 lb.-ft. of torque – more than any Small-Block engine ever offered in a production Chevrolet muscle car or Corvette!
The ZZ6 is built with a cast-iron block with four-bolt mains, along with a forged steel crankshaft, an aggressive hydraulic roller camshaft and durable, high-silicon pistons. All-new, motorsports-inspired valve covers distinguish this new crate engine at a glance, too – along with Chevy "Bowtie" insignias in the ends of the cylinder heads that let everyone know you've got the latest Chevrolet Performance hardware under the hood.
This Turn-Key engine package includes the distributor, and balancer installed. The carburetor, starter, fuel pump, air conditioning pump, alternator, single belt Front-End Accessory Drive Kit and more are also included. Chevrolet Performance offers the ZZ6 350 base engine (P/N 19351532) at a lower price, allowing you to finish the engine yourself.
Connect & Cruise System Components:
Part Number: Connect & Cruise CPSZZ6T4L65E
Engine: 19432105
Transmission: 19368611
Torque Converter: 19299801
Transmission Control System: 19332775
Transmission Installation Kit: 19420473
Engine Specifications
Small Block 350
405 HP @ 5,600 RPM
406 lb-ft @ 4,600 RPM
9.72:1 compression Ratio
Transmission Specifications
4L65-E four-speed automatic
Four-pinion gearsets
3.06 first gear ratio, 0.70 overdrive ratio
30-3/4 inches long (approx.)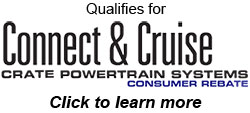 This is a Chevrolet Performance product.
California Proposition 65 Warning