ZZ572/620 Deluxe Connect & Cruise Crate Powertrain System W/ 4L85-E
CPSZZ5724L85E
Suggested Retail:
$33561.65
Product Details
---
ALL-NEW 'OLD SCHOOL' CONNECT & CRUISE POWERTRAIN SYSTEMS
Chevrolet Performance has expanded the Connect & Cruise Powertrain lineup for 2017 with all-new systems pairing Gen I Small-Block, Big-Block and even carbureted LS engines. Each system includes the engine, transmission and transmission installation kit. They're comprehensive packages designed to make your powertrain selection easier and installation in your project faster!
Connect & Cruise System Components:
Part Number: Connect & Cruise CPSZZ6204L85E
Engine: 19331583
Transmission: 19300175
Torque Converter: 19299805
Transmission Control System: 19332780
Transmission Installation Kit: 19420956
Engine Specifications
Big Block V8 572 cu in
621 HP @ 5,400 RPM
645 lb-ft @ 4,200 RPM
9.6:1 compression Ratio
Transmission Specifications
4L85-E four-speed automatic
High-performance valve body and clutches
2.48 first gear ratio,0.75 overdrive ratio
32-11/16 inches long (approx.)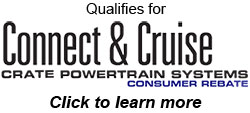 This is a Chevrolet Performance product.
California Proposition 65 Warning