ZZ502/502 Deluxe Manual Connect & Cruise Crate Powertrain System
CPSZZ502T56
Suggested Retail:
$23940.92
Product Details
---
Chevrolet Performance has expanded the Connect & Cruise Powertrain lineup for 2016 with all-new systems pairing Gen I Small-Block, Big-Block and even carbureted LS engines with the T56 Super Magnum six-speed manual transmission. Each system includes the engine, transmission and transmission installation kit. They're comprehensive packages designed to make your powertrain selection easier and installation in your project faster! Check out the offerings below and turn to the separate crate engine pages to get more details on each engine.
Connect & Cruise System Components:
Part Number: Connect & Cruise CPSZZ502DLXT56
Engine: 19331579
Transmission Installation Kit: 19329901
Transmission: 19352208
Engine Specifications
ZZ502 Manual (502 cu in)
508 hp @ 3,600 rpm
580 lb.-ft. @ 3,600 rpm
1.7:1 compression ratio
Transmission Specifications Manual
T56 Super Magnum six-speed manual
Slip-yoke design, 40-tooth reluctor ring
2.66 first gear ratio, 0.63 overdrive ratio
33.6 inches long (approx.)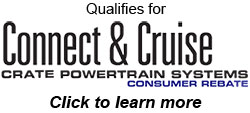 This is a Chevrolet Performance product.
California Proposition 65 Warning