SP350/385 Turn-Key Manual Connect & Cruise Crate Powertrain System
CPSSP350T56
Suggested Retail:
$20350.25
Product Details
---
Chevrolet Performance has expanded the Connect & Cruise Powertrain lineup for 2016 with all-new systems pairing Gen I Small-Block, Big-Block and even carbureted LS engines with the T56 Super Magnum six-speed manual transmission. Each system includes the engine, transmission and transmission installation kit.
Connect & Cruise System Components:
Part Number: Connect & Cruise CPSSP350T56
Engine: 19419994
Transmission Installation Kit: 19329900
Transmission: 19352208
Engine Specifications
SPS350 Deluxe (383 cu in)
385 hp @5,600 rpm
405 lb.-ft. @ 3,600 rpm
1.5:1 compression ratio
Transmission Specifications Manual
T56 Super Magnum six-speed manual
Slip-yoke design, 40-tooth reluctor ring
2.66 first gear ratio, 0.63 overdrive ratio
33.6 inches long (approx.)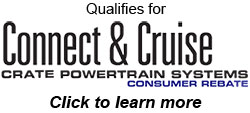 This is a Chevrolet Performance product.
California Proposition 65 Warning