LT4 Wet Sump Manual Connect & Cruise Crate Powertrain System
CPSLT4WT56
Suggested Retail:
$36153.06
Product Details
---
SUPERCHARGED POWER FROM THE C7 CORVETTE Z06!
As the heart of the Corvette Z06, the supercharged LT4 6.2L SC is the most powerful engine ever offered in a regular-production Chevrolet. It features a more-efficient, more-compact 1.7L Eaton R1740 TVS supercharger, which spins at up to 20,000 rpm. That's enough to generate more than 9 pounds of boost and help produce 650 horsepower and 650 lb.-ft. of torque.
The LT4 is based on the same Gen V Small-Block architecture as the LT1 engine, with several unique features designed to support its higher output and the greater cylinder pressures created by forced induction. They include Rotocast A356T6 aluminum cylinder heads that are stronger and handle heat better than conventional castings, lightweight titanium intake valves and stronger forged aluminum pistons.
Connect & Cruise System Components:
Part Number: Connect & Cruise CPSLT4T56W
Engine: 19431955
Engine Control System 19433248
Transmission: 19352208
Transmission Install Kit: 19329912
Engine Specifications
LT4 6.2 (376 cu in) Supercharged
650 HP @ 6,000 RPM
650 lb-ft @ 4,600 RPM
10:1 compression Ratio
Transmission Specifications
T56 Super Magnum six-speed manual
Slip-yoke design, 40-tooth reluctor ring
2.66 first gear ratio, 0.63 overdrive ratio
33.6 inches long (approx.)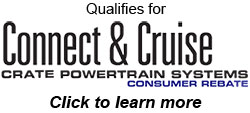 This is a Chevrolet Performance product.
California Proposition 65 Warning