LT1 Wet Sump Automatic Connect & Cruise Powertrain System W/ 6l80E
CPSLT16L80E
Suggested Retail:
$21163.79
Product Details
---
Introduced on the seventh-generation Corvette Stingray, the LT1 6.2L opened the next chapter in the long, historic legacy of the Small-Block engine – and gives your project vehicle a high-tech heart transplant with an unprecedented balance of performance and efficiency!
The LT1 is architecturally similar to the LS family of engines, but with a unique block casting, cylinder head design, oiling system and more. It also combines advanced technologies including direct injection, Active Fuel Management (cylinder deactivation) and continuously variable valve timing to support an advanced combustion system.
Our LT1 6.2L crate engine is rated at 455 horsepower and 455 lb.-ft. of torque.. A controller specially designed for retro-fit application using an automatic transmission is available.
Chevrolet Performance control kits do not utilize the AFM components on this crate engine
Connect & Cruise System Components
Part Number: Connect & Cruise CPSLT16L80E

Wet Sump:
Engine: 19431953
Engine Control System: 19433601 - COMING SOON !
Transmission: 19432682
Transmission Install Kit: 19432892 - COMING SOON !
LT1 Engine Specs:
• LT1 6.2L (376 cu in)
• 455 hp @ 6,000 rpm
• 455 lb.-ft. @ 4,600 rpm
• 11.0:1 compression ratio Trans Specs 8-Speed, 2WD:
Trans Specs 6-Speed, 2WD:
• 6L98-E Six-speed automatic
• Integral controller
• 4.02 first gear, 2.36 second gear,1.53 third gear, 1.15 fourth gear, 0.85 fifth gear, 0.67 sixth gear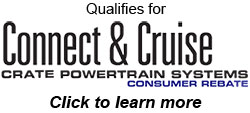 This is a Chevrolet Performance product.
Chevrolet Performance Crate Engines include a 24-month or 50,000-mile/80,000-kilometer limited warranty.
California Proposition 65 Warning