LS376/480 Connect & Cruise Crate Powertrain System W/ 4L70-E
CPSLS3764804L70E
Suggested Retail:
$22944.09
Product Details
---
FACTORY-MATCHED PERFORMANCE ENGINE AND TRANSMISSION COMBOS
Chevrolet Performance's innovative Connect & Cruise factory-matched engine-and-transmission combinations reduce the time and hassle of picking the parts to power your project vehicle.
Each system matches one of our performance Small-Block, Big-Block and LS/LT crate engines with a complementing transmission, as well as the supporting calibrated controllers, torque converters (for automatic transmissions) and installation kits.
With Chevrolet Performance's Connect & Cruise combinations, it's never been easier to pick your project powertrain!
Mixing the capable LS "Hot Cam" with the powerful 6.2L LS3 takes affordable performance to a great, new level - 495 horsepower and 473 lb.-ft. that will wake up your vintage Camaro, Chevelle or "shoebox" Chevy. The 4L70-E four-speed overdrive transmission backs the LS376/480 with strength and durability. Put this combo to work in your classic cruiser and enjoy a great balance of performance and efficiency!
Connect & Cruise System Components:
Part Number: Connect & Cruise CPSLS3764804L70E
Engine: 19434638
Engine Control System: 19354330
Transmission: 19368613
Torque Converter: 19299803
Transmission Control System: 19302405
Flywheel Kit: N/A
Transmission Installation Kit: 19259117
Engine Specifications
LS376 / 480 (376 cu in)
480 hp @ 5,750 rpm
475 lb.-ft. @ 4,500 rpm
10.7:1 compression ratio
Transmission Specifications 2WD
4L70-E four-speed automatic
Five-pinion gearsets
3.06 first gear ratio, 0.70 overdrive ratio
30-3/4 inches long (approx.)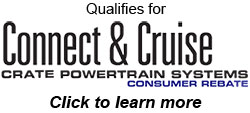 This is a Chevrolet Performance product.
California Proposition 65 Warning