ZZ6 Base Connect & Cruise Crate Powertrain System W/ 4L65-E
CPSZZ6B4L65E
Suggested Retail:
$15017.33
Product Details
---
CHEVROLET PERFORMANCE'S ICONIC 350-BASED "ZZ" ENGINE FAMILY CONTINUES THE LEGACY
Chevrolet Performance's new ZZ6 delivers more power than any 350 Small-Block ever installed in a production vehicle. Rated at 405 hp and 406 lb.-ft. of torque, it derives its range-topping performance from unique, lightweight aluminum cylinder heads that enable optimal airflow at high rpm.
The cylinder head casting is based on the proven Fast Burn design, with large intake runners and 2.00/1.55-inch valves. Beehive-style valve springs deliver greater high-rpm performance and durability. Their egg-shaped profiles have less reciprocating mass in motion, require less spring pressure for greater valve control and handle valvetrain stresses more efficiently. They allow the ZZ6 to rev higher to make the most of every cubic inch of air drawn through it.
The ZZ6 also uses an aggressive hydraulic roller camshaft that supports the engine's high-rpm airflow capability while maintaining excellent low-speed drivability. This Base crate engine kit includes the intake manifold, distributor, water pump, damper and flexplate – and the distinctive, racing-inspired valve covers that distinguish this crate >engine as the latest in the ZZ legacy!
Connect & Cruise System Components:
Part Number: Connect & Cruise CPSZZ6B4L65E
Engine: 19351532
Transmission: 19368611
Torque Converter: 19299801
Transmission Control System: 19332775
Transmission Installation Kit: 19332781
Engine Specifications
Small Block 350
405 HP @ 5,600 RPM
406 lb-ft @ 4,600 RPM
9.72:1 compression Ratio
Transmission Specifications
4L65-E four-speed automatic
Five-pinion gearsets
3.06 first gear ratio, 0.70 overdrive ratio
30-3/4 inches long (approx.)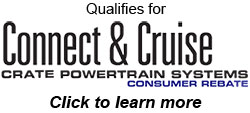 This is a Chevrolet Performance product.
California Proposition 65 Warning