LT5 Automatic Connect & Cruise Powertrain System W/ 8 Speed - IN STOCK READY TO SHIP !
CPSLT58L90
Suggested Retail:
$33545.38
Product Details
---
MOST. POWERFUL. EVER.
As the power behind the 2019 Corvette ZR1, the new, supercharged 6.2L LT5 represents the pinnacle of Chevrolet's performance: It's the most powerful engine ever offered in a Chevy production vehicle. The Chevrolet Performance LT5 crate engine delivers 755 horsepower and 715 lb.-ft. of torque. It builds on the successful supercharging legacy of the LS9 and LT4 engines, with advanced technologies such as camshaft phasing and direct injection.
An all-new, 2.65-liter supercharger (64 percent larger than the LT4's supercharger) pumps out more boost and blows into a robust charge-cooling system with about twice the capacity of the LT4's system. It's supported by a unique dual-fuel system that features eight port-style injectors, which complement the engine's standard directinjection system. That's a grand total of 16 injectors, with the auxiliary port injectors supporting the direct-injection system under heavier fuel loads such as wide-open throttle.

The LT5 also features the largest throttle body ever on an LS or LT engine, an electronically controlled bypass for the supercharger, specific heavy-duty main bearings and more. The bottom line is there's never been a more powerful production-based crate engine from Chevrolet Performance—and it's ready for your ride!

Connect & Cruise Components

Part Number: Connect & Cruise CPSLT58L90E
Engine: 19417105
Engine Control System 19418244
Transmission: 19419800
Torque Converter: (included)
Transmission Controller: (included with trans)
Transmission Install Kit: 19418408 19417103
LT5 Engine Specs:
– LT5 6.2L (376 cu in) Supercharged
– 755 hp @ 6,400 rpm
– 715 lb.-ft @ 3,600 rpm
– 10.0:1 compression ratio
Trans Specs 8-Speed, 2WD:
– 8L90-E eight-speed automatic – Integral controller
– 4.56 first gear, 2.97 second gear, 2.08 third gear,1.69 fourth gear, 1.27 fifth gear, 1.00 sixth gear, 0.85 seventh gear, 0.650 eighth gear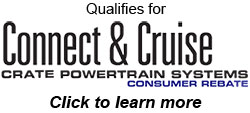 This is a Chevrolet Performance product.
This is a Chevrolet Performance product.
DRIVE KIT NOT INCLUDED IN PACKAGE

California Proposition 65 Warning