LT1 Dry Sump Manual Connect & Cruise Crate Powertrain System
CPSLT1DRY4LT56
Suggested Retail:
$21514.03
Product Details
---
Representing the fifth generation of the iconic Chevy Small-Block, the LT1 6.2L is a technologically advanced V-8 featuring direct injection, camshaft phasing (variable valve timing) and Active Fuel Management (cylinder deactivation). It's a combination that supports an exceptional balance of performance – 460 hp and 465 lb.-ft. – and efficiency. Our new LT1 Connect & Cruise Powertrain systems are offered in wet- or dry-sump versions, and with manual or automatic transmissions.
Connect & Cruise System Components
Part Number: Connect & Cruise CPSLTIDRY4LT56

Dry Sump:
Engine: 19329997
Engine Control System 19417227
Transmission: 19352208
Transmission Install Kit: 19329912
Engine Specifications
LT1 6.2L (376 cu in)
460 hp @6,000 rpm
465 lb.-ft. @ 4,600 rpm
11.5:1 compression ratio
Transmission Specifications 2WD
4L70-E four-speed automatic
Five-pinion gearsets
3.06 first gear ratio, 0.70 overdrive ratio
30.75 inches long (approx.)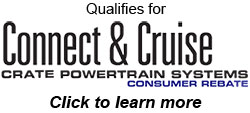 This is a Chevrolet Performance product.
California Proposition 65 Warning