LT376/535 Connect & Cruise Crate Powertrain System W/ 4L75-E
CPSLT15354L75E
Suggested Retail:
$21833.18
Product Details
---
FACTORY-ENGINEERED PERFORMANCE FOR THE NEW LT ENGINE FAMILY!
On the street, strip and road course, Chevrolet's Gen V Small-Block – better known as the LT family – is rewriting the manual on factory high-performance. With technologies such as direct injection, which enables more precise fuel delivery control, the LT platform enables higher compression that translates into big horsepower.
Chevrolet Performance's all-new LT376/535 crate engine – for use in race vehicles – builds on the LT family's technologies and takes them to the next level, leveraging CNC-ported heads and the high-lift LT1 Hot Cam to deliver 535 naturally aspirated horsepower. And this engine loves to rev, making great power as the rpm sails quickly and easily toward 6,800 rpm!
The LT376/535 is the latest example of Chevrolet channeling our racing experience into engines that stir the soul and ignite the passions of builders and enthusiasts. Our inclusive, all-new crate engine kit (P/N 19355378) includes the engine assembly with a production intake manifold, throttle body assembly, ignition coils, water pump, balancer and more.
For the ultimate in high-tech high-performance, the LT376/535 establishes a new benchmark – and it's the perfect selection for modern hot rods and pro-touring machines.
Connect & Cruise Components
Part Number: CPSLT15354L75E
Engine: 19355378
Engine Control System: 19417230
Transmission: 19368615
Torque Converter: 19299803
Transmission Controller: 19302405
Transmission Install Kit: 19329416
Bellhousing : 19125817
LT376/535 Engine Specs:
– LT1 6.2L (376 cu in)
– 535 hp @ 6,300 rpm
– 470 lb.-ft @ 4,600 rpm
– 11.5:1 compression ratio
Trans Specs 4-Speed, 2WD:
– 4L75-E four-speed automatic
– Five-pinion gearsets
– 3.06 first gear ratio, 0.70 overdrive ratio
– 30.75 inches long (approx.)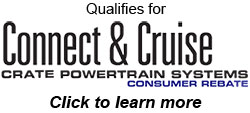 This is a Chevrolet Performance product.
California Proposition 65 Warning