LSA E-ROD 6.2L 556 HP Connect & Cruise Crate Powertrain System W/ 4L75-E
CPSLSAEROD4L75E
Suggested Retail:
$26448.52
Product Details
---
The Cadillac CTS-V's 6.2L supercharged LSA engine delivers 556 hp with refinement that is rare in the world of high performance. It is smooth, quiet and well-balanced – all while delivering breathtaking power. The engine features a unique aluminum cylinder block casting that houses a forged steel crankshaft and integrated piston-cooling oil jets, along with high-flow cylinder heads that support the airflow enabled by a 1.9L supercharger with four-lobe, high-twist rotors. The E-ROD LSA comes fully dressed, from the top of the charge-cooled supercharger assembly to the ignition system.
Each Connect & Cruise kit delivers a brand-new, fully assembled crate engine, an electronically controlled overdrive transmission, electronic control modules for both and the engine control hardware to get it all running in your project vehicle – including the mass airflow sensor, oxygen sensors and even the special throttle pedal for the engines' electronic throttle bodies.
Chevrolet Performance engineers matched the engines with their respective transmission, ensuring it was up to the task of channeling big power with absolute dependability. The engine controller is specially calibrated to run the engine without some of the production-vehicle features that aren't required in an older vehicle. That means no "trouble" codes and no need for third-party tuning. Better still, the systems' unique SuperMatic transmission controller is designed to work with the engine controller for a seamless, "plug and play" installation that is quick, easy and intuitive. Detailed instructions outline all the necessary steps.
The engineers did all the hard work of designing and calibrating perfectly matched powertrain systems – and we've covered them with a 24-month/50,000-mile limited warranty. All you have to do is install them and start cruising!
Connect & Cruise System Components:
Part Number: Connect & Cruise CPSLSAEROD4L75E
Engine: 19416892
Engine Control System: Included with Engine
Transmission: 19368615
Torque Converter 19299802
Transmission Control System: 19302405
Transmission Installation Kit: 19329416
Engine Specifications
LSA 6.2L (376 cu in) supercharged
556 hp @ 6,100 rpm
551 lb.-ft. @ 3,800 rpm
9.1:1 compression ratio
Transmission Specifications 2WD
4L75-E four-speed automatic
Five-pinion gearsets
3.06 first gear ratio, 0.70 overdrive ratio
30.75 inches long (approx.)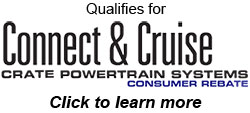 This is a Chevrolet Performance product.
California Proposition 65 Warning