LS7 7.0L Manual Connect & Cruise Powertrain System
CPSLS770T56
Suggested Retail:
$22363.50
Product Details
---
The legendary 7.0L LS7 made the C6 Corvette Z06 an icon and delivers 427 cubic inches of high-rpm horsepower that makes the ultimate resto-mod statement in a classic Corvette, Chevelle or Camaro. We match it with the T56 Super Magnum six-speed manual transmission.
Connect & Cruise System Components:
Part Number: Connect & Cruise CPSLS770T56
Engine: 19329246
Engine Controller: 19354334
Transmission Installation Kit: 19301625
Transmission: 19352208
Engine Specifications
LS7 7.0L (427 cu in)
505 hp @ 6,300 rpm
470 lb.-ft. @ 4,800 rpm
11.0:1 compression ratio
Transmission Specifications Manual
T56 Super Magnum six-speed manual
Slip-yoke design, 40-tooth reluctor ring
2.66 first gear ratio, 0.63 overdrive ratio
33.6 inches long (approx.)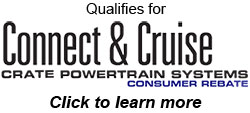 This is a Chevrolet Performance product.
California Proposition 65 Warning