LS7 Connect & Cruise Crate Powertrain System W/ 6L80-E 2400 Stall
CPSLS76L802400
Suggested Retail:
$20333.85
Product Details
---
Destined for the hall of fame of production engines, the legendary 7.0L LS7 that made the Corvette Z06 an icon delivers 427 cubic inches of high-rpm horsepower and makes the ultimate resto-mod statement a classic Corvette, Chevelle or Camaro. We match it with the strong 6L80-E Six-speed automatic to ensure all 470 lb.-ft. are transmitted to the Tarmac with dependability. Put the power of a living legend in your project car with the LS7 Connect & Cruise Crate Powertrain System!
Each Connect & Cruise kit delivers a brand-new, fully assembled crate engine, an electronically controlled overdrive transmission, electronic control modules for both and the engine control hardware to get it all running in your project vehicle – including the mass airflow sensor, oxygen sensors and even the special throttle pedal for the engines' electronic throttle bodies.
Chevrolet Performance engineers matched the engines with their respective transmission, ensuring it was up to the task of channeling big power with absolute dependability. The engine controller is specially calibrated to run the engine without some of the production-vehicle features that aren't required in an older vehicle. That means no "trouble" codes and no need for third-party tuning. Better still, the systems' unique SuperMatic transmission controller is designed to work with the engine controller for a seamless, "plug and play" installation that is quick, easy and intuitive. Detailed instructions outline all the necessary steps.
The engineers did all the hard work of designing and calibrating perfectly matched powertrain systems – and we've covered them with a 24-month/50,000-mile limited warranty (see cheverolet.com/performance or your Chevrolet Performance retailer for complete details). All you have to do is install them and start cruising!
Connect & Cruise System Components:
Transmission Controller:
Included w/ Trans
Torque Converter:
Included w/ Trans
LS7 (427 cu in)
505 hp @ 6300 rpm | 470 lb.-ft. @ 4800 rpm
11.0:1 compression ratio
Transmission Specifications
6L80-E Six-speed automatic
4.02 first gear ratio, 0.67 overdrive ratio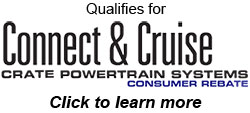 This is a Chevrolet Performance product.
California Proposition 65 Warning