L96 6.0L 2WD CONNECT AND CRUISE W/4L65-E
CPSL964L65E
Suggested Retail:
$15954.84
Product Details
---
HEAVY-DUTY LS POWER FOR YOUR TRUCK!
Chevrolet Performance's L96 6.0L crate engine is based on the same work-ready powerhouse offered in Silverado HD trucks – and it's ready to go to work for you in a late-model truck or project vehicle that needs a fresh engine or a dual-purpose vintage truck built for work and fun.
Thanks to the advantage of its high-flow cylinder heads and other technologies, the L96 offers more than 50-percent more horsepower than the 454 Big-Block offered in Chevy trucks from the 1970s through the early 1990s. It delivers more torque, too, than most production 454 engines, while cranking it out it in a lighter, more compact package.
Chevrolet Performance's inclusive crate engine kit includes the engine assembly with a production high torque intake manifold, throttle body assembly, ignition coils, water pump, balancer and more. You'll need to add a frontend accessory drive system and an engine controller, but we've got that covered, too.
Connect & Cruise System Components:
Part Number: Connect & Cruise CPSL964L65E
Engine: 19416591
Engine Control System: 19418490
Transmission: 19368611
Torque Converter: 19299802
Transmission Control System: 19302405
Transmission Installation Kit: 19259117
Engine Specifications
L96 6.0L (364 cu in)
360 hp @ 5,400 rpm
380 lb.-ft. @ 4,200 rpm
9.6:1 compression ratio
Transmission Specifications 2WD
4L65-E four-speed automatic
Five-pinion gearsets
3.06 first gear ratio, 0.70 overdrive ratio
30-3/4 inches long (approx.)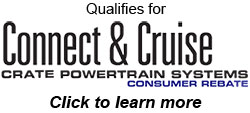 This is a Chevrolet Performance product.
California Proposition 65 Warning