HT383 Connect & Cruise Crate Powertrain System W/ 4L70-E
CPSHT3834L70E
Suggested Retail:
$13667.19
Product Details
---
BIG TORQUE FOR YOUR TRUCK
Got a pre-1980 GM truck with a tired Small-Block? Forget the rebuild and take your trusty truck's capability to the next level with our big-torque HT383 crate engine. Its extra displacement and unique parts are designed to build a wide, flat torque curve that maintains at least 400 lb.-ft. between 2,500 and 4,000 rpm. The 323 hp and 444 lb.-ft. of torque is power you simply won't get with a stock-type rebuild.
Built for true truck strength, the engine starts with a cast-iron block with four-bolt main caps – a strength-enhancing feature most production truck blocks don't have. We then fill the block with a forged steel crankshaft and a smooth hydraulic roller camshaft, then top it off with iron Vortec heads. Its 9.1:1 compression ratio is perfect for regular gasoline at all altitudes and engine loads.
We deliver the HT383 with an aluminum intake manifold, ready for you to swap over the accessories from your tired engine. It's also backed by a 24-month/50,000-mile (80,000 km) limited warranty.
Connect & Cruise System Components:
Part Number: Connect & Cruise CPSHT3834L70E
Engine: 19355720
Transmission: 19368613
Torque Converter: 19299800
Transmission Control System: 19332775
Transmission Installation Kit: 19332781
Engine Specifications
Small Block V-8
323 HP @ 4,200 RPM
444 lb. -ft. @ 3,000 RPM
9.1:1 Compression Ratio
Transmission Specifications
4L70-E four-speed automatic
Five-pinion gearsets
3.06 first gear ratio, 0.70 overdrive ratio
30-3/4 inches long (approx.)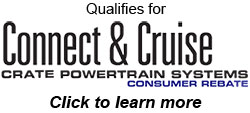 This is a Chevrolet Performance product.
California Proposition 65 Warning